This is Illyriad, Welcome!
Let me introduce you to Illyriad, the first thing you should know is that Illyriad IS DIFFERENT! Now, if you're here that means you are new to the game. I'll tell you, Illyriad is a DEEP game with lots of different things to take in, so we'll start with the basics here. So, what is Illyriad and how is it different? Illyriad is a perpetual game, which means the server we play on never ends or restarts, there is no winner or end-game. It is considered a 'sandbox' game, that is, you play how you want to play. This causes Illyriad to be in a constant state of flux, where there is occasional conflicts, tournaments, and new content, keeping Illyriad unique and always interesting.
Anyway, let's start at the beginning, I recommend following this guide to help you out during your first week of the game:
Step 1: Do the in-game Tutorial and learn how to navigate
- Finish the tutorial if you have not, King Sigurd will send you a gift package during this and you will learn several of the basics of Illyriad
- Locate the Seals at the top of the window and notice that each has various Satellites under them (if you hover over a Seal the Satellites will be revealed)
- Click on the World Map Seal to view the map, locate the view slider, compass and "View Strategic Map" link
The slider will change the map zoom. By clicking on the points of the compass (N, NE, E, etc.) you can move the map (alternately you can drag the map or click a spot and "View Centered In Map" or click on the minimap), clicking the tower in the middle will re-center the map on your town. Lastly, clicking "View Strategic Map" will show the entire map and allow you to see where certain things are on the map.
Once you have finished the Tutorial, you may notice this:
around the game, clicking these will open up a short tutorial about whatever page you are on and can serve as a quick reminder on game mechanics.
Step 2: Change your taxes
- Click on your castle and go to the taxes tab, set your taxes to 0% which increases your resource production to 125%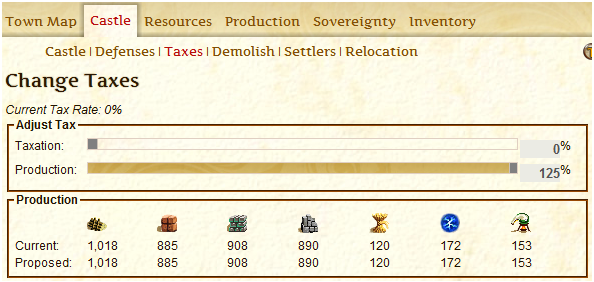 The default for taxes is set at 25%, but you don't need gold yet. Notice how the resource production levels change as you move the tax slider. You can only change your taxes once every 24 hours. We are changing the taxes because what you need are resources and a lot of them, doing this will give you a jump-start in the game.
Step 3: Speak up, we want to meet you!
- Locate Global Chat and introduce yourself, the Illyriad community is very generous and often sends gifts to new players (note: you can click on the window icon, little boxes, to enlarge the chat window)
- Check your incoming trades, if there is a blue box with a number in it, you have incoming trades
- Click the Movements Satellite (footprints) to see who sent you goods and what it is, then give a nice "Thank You" in Global Chat to the people who are sending you gifts
When speaking in Global Chat, try to stay in PG-rated mode. There is an auto-banhammer that will silence you for swearing, but there are also the sneaky GMs who like to lurk and crush players who aren't being civil in the chatroom.
Step 4: Better increase that storage...
- If you have inbound shipments, check to see if you can hold it all (look at how much is coming, then look at how much you can hold) by clicking on the Inventory Satellite (2 papers) and viewing Fill Levels

- Increase your Storehouse to level 3 (of course higher is better!)
A bit of advanced advice: try not to level your Storehouse past 15. At level 15 you unlock research that will allow you to build the superior Warehouse. Since there are limited build plots, you may someday choose to demolish that Storehouse and it would be a terrible waste to build it up all the way to 20!
Step 5: Resources?
- Build your resource plots up toward level 7 (resource plots = Lumberyard, Clay Pit, Quarry and Iron Mine)
- Keep your resource production level equal (as you build up your resource plots, try to keep your income about the same for each of the 4 resources, we exclude food in this: explained later)
Notice that the top number is how much you have in storage and the bottom is your production per hour. When we talk about resources, we are talking about Wood, Clay, Iron and Stone, we exclude Food because it is used differently. The most common way of leveling your resource plots is to focus on one of each type at a time: level 1 Lumberyard, level 1 Clay Pit, level 1 Quarry, level 1 Iron Mine, then on to level 2, 3, etc.
Step 6: Food acts differently?
- Food is not used for armies, it provides population
- Buildings have an upkeep in food that increases as you level them up, this upkeep is where your town's population comes from

- Keep your food production somewhere between 0 and 20 at all times (once you're larger this can change to 0 to 100)
The goal here is NOT to produce 1000s of food, but to keep your production level above 0. If your food goes into negative production, you need to build up a Farmyard right away! Otherwise, when your storage is empty of food your buildings will begin lowering their levels, and you must avoid this at all costs!
Step 7: Protection? Armies? HELP ME!
- Newbie protection (the nice rainbow above your town) lasts for 7 days from when you started
- Check the time and day that it expires to know when you are no longer safe (found by clicking on your castle)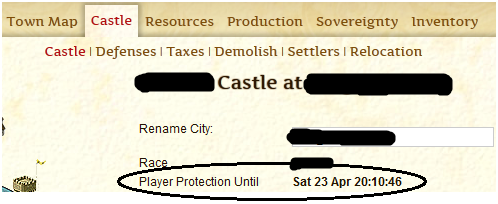 - DO NOT build an army to prepare for this protection expiration! If you find yourself being attacked (a red box will show above the Military Overview or Diplomatic Overview Seals) find help in Global Chat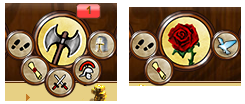 What happens when protection goes away? Well, you can now be attacked, but most likely that won't happen. The reason you don't build an army is because the number of soldiers you can train is insignificant compared to what there is out there. Also, there is little benefit to attacking a new player and the community really frowns upon bullying new players. If you do see one of those red boxes or get a message saying you've been robbed, find help in General Chat.
Step 8: Alliances
- You DO NOT need to join an Alliance, but you may if you wish to, locate the Alliance List Satellite (star) under the Alliances Overview Seal
- Research Alliances by finding players in Global Chat, the Alliance List or in the Illyriad Forums: Alliance Recruitment
If you find someone in Global Chat who you get along with, you can find if they are in an Alliance by clicking on their name. A mini window pops up and there will be an Alliance Ticker after their name (example: [RES]). In that same mini window you can click on "View Alliance Profile" to see the alliance page that the player is a part of. Most Alliance Profiles will have contact info for the player who recruits for them. Send that person a mail if you wish to join their alliance.
Step 9: Week 1 Checklist
- Work toward these building levels in your first week:
Buildings:
Level 10 Storehouse, 3 Level 7 Lumberjack, 3 Level 7 Clay Pit, 3 Level 7 Quarry, 3 Level 7 Iron Mine, Level 10 Library, Level 10 Architect's Office, Level 5 Marketplace, Level 3 Mage Tower
-and- KEEP FOOD PRODUCTION POSITIVE!!!!
- Work toward these researches in your first week:
Research:
City: Timekeeping, Craftsmanship, Agriculture, Bureaucracy, Architecture, Pioneering, Bookbinding, Safeguard, Milling
Diplomacy: Negotiation
Quest: Brewing, Bartending
Magic: Arcana, Runes, Mark of Seeking, Mark of Slaying
Military: Militia
Trade: Haggling, Bartering, Improved Loading, Chain Gang, Cotters, Foraging, Grape Picking
Step 10: Last notes before Week 2
- Claim your Daily Log-In Bonus, locate The Herald Satellite (the H) under the World Map Seal, take the Free Prestige every day

- Keep your building queue full as much as possible, try to focus mostly on your resource plots (note: there are 2 "tiers" of buildings, these aren't noted in game, but some of the buildings have an upkeep of resources AND food, try not to build any of those early on)
- Keep your research queue full as much as possible, locate the Research Tree Satellite (brackets) under the Research Seal

- Look around the World Map and you may see some NPC armies, these won't attack your towns but may be seen moving around the map (later when you build an army you will use these to train your commanders)
- There is a couple ways that you can move your town to somewhere else on the map, you may be tempted to do this early on, DON'T (it is recommended that you wait to move until you are ready to build your second town and have found an alliance, if you so choose)
Congratulations!
You've made it through week one and are a fully-fledged newbie! Oh, don't be upset, we all started here, we all had many many questions (and all of us still have them!). Once you feel confident with the above material then you are ready for the...
Part 2 of my Newbie Guide covers several of the more advanced topics in a much less linear fashion.
Please: If you feel unclear about any of the above or would like to leave comments and concerns, contact me: tallica in game.


Edited by GM Luna - 17 Oct 2012 at 19:52