Really?
How do you know that you've really been robbed? Well, you should receive a mail like this:
"A shame-faced quartermaster from your storehouse has noticed supplies missing from your stockpile. He can't imagine how this has happened unless as a result of theft, and notes that some suspicious characters were spotted loitering around the storehouse earlier."
And then the mail will tell you how much of what was taken. We will get back to this mail later.
Close That Door!
First thing to do is stop the thieves from getting anymore of your resources. Make sure that you have a good killing rune (either slaying or seeking). I normally suggest slaying, but switching to seeking temporarily might be a good idea if you are having an extra large helping of thieves. I am not going to go into how to defend yourself because Rill has already done an excellent job of that here(http://forum.illyriad.co.uk/basic-self-defense-for-new-players_topic2368.html).
Also, thieves can cost around 3,300 gold each (based on prices at the time of writing). If you can kill enough of them, it would not be worth it to the player to keep building thieves to have them become toast for carrion.
Ok, so lets assume that you've got your rune ready to wipe out hundreds of the buggers, a good alliance that might scare off the bad people, counter-thieves, and maybe a small vault.
Lets move on.
Gathering Intel
If you had a rune up that killed some thieves, you can find out some really good info. Here is what a typical mail from the rune will look like:
"A diplomatic mission was seen approaching the outskirts of your city. As they closed on the city, a mighty roar and a flash of mystic light burst forth the gates.
When the smoke cleared a number of their units lay smouldering on the ground, now fit only for carrion.
Units slain or damaged:"
And then it will tell you the number of killed bad guys and what type they were. Using this info, you can tell the race which will help narrow down who-dun-it.
Burglar = basic human thief – 59 capacity – 16 defense – 15 attack
Master Thief = advanced human thief – 64 capacity – 30 defense – 38 attack
Footpad = basic dwarf thief – 57 capacity – 20 defense – 18 attack
Halfling = advanced dwarf thief – 60 capacity – 36 defense – 39 attack
Goblin Cutpurse = basic orc thief – 71 capacity – 18 defense – 14 attack
Plunderer = advanced orc thief – 76 capacity – 28 defense – 34 attack
Rouge = basic elf thief – 50 capacity – 17 defense – 14 attack
Dark Elf = advanced elf thief – 54 capacity – 29 defense – 31 attack
This info is also good for getting an idea of how many thieves are attacking you.
Take the total number of resources that where stolen at one time (I told you that we would get back to that mail) and divide it by the capacity of the thieves that attacked you. Ta-daaa, that is how many thieves you are dealing with.
Also, if you didn't have an active rune when they struck, you can still figure out what the race of the thief was. Divide the total amount stolen in one go by all the different capacities and the one that divides evenly is the answer. Hopefully you don't have multiple answers. :P
It's a Trap!
To ambush the bad guys, you will need the following ingredients:
-Counter Intelligence (Research)
-Interrogation (Research)
-Thieves (Diplomatic Unit)
-Endurance (Player Trait)
To have a good chance at nabbing them, your thief defense score (you can see that here http://elgea.illyriad.co.uk/#/Diplomatic ) should be close to the attacker's score. To figure out the attack score, take the number of units they sent and multiply it by the attack number mentioned above for that unit. Also remember that basic thieves have a more efficient defense score/cost ratio than advanced ones. But if getting your defense numbers up fast is more important than efficiency, then go with t2.
Now, there is a good bit of randomness in all of this. Sometimes 1 thief will catch a whole bundle of the bad guys, other times a small party of thieves will waltz right past your army of counter-thieves. That is where the endurance comes in. You might need to tough it out for a bit.
They Went That Way →
If you can be online when the thieves come, you have some more options. You can look which direction the thieves are going after they rob you. Right now, they will travel in a straight line back to their lair. You can combine this info with what race they are, and a guess at how big the player would have to be to send you that number of thieves. So if you are in a sparsely populated area, that can be a big hint on who is picking on you.
Now, when you do that, you don't exactly get a precise figure on who-dun-it. It takes a little more effort (and luck) but there are more options. If you are online when the diplos come, you can send scouts or spies back along the path they bad guy came from. Scouts and spies have their own diplo visibility "bubble" so you can track the thieves. Just take several guess at where the bad diplo came from and send lots of your own diplos a little past their town. Oh, and you might want to send them from slightly different times too!
Here is a screenshot (thanks to Ryelle) of what this looks like: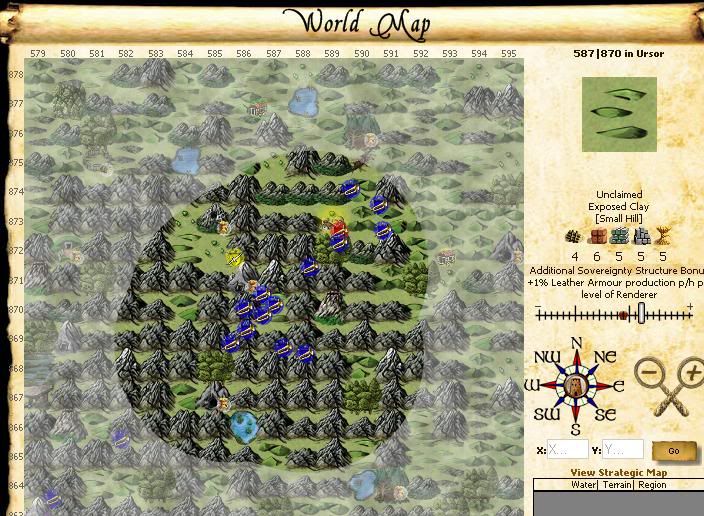 See that red guy? All of the blue trumpets are watching him to see what town he disappears into.
And there is another thing you can do (probably in conjunction with the last option) to find that meany.
Take one screen shot with the thieves close to your town. (To all the smarties: Yes, I know that diplo isn't really a thief trying to get me. Just go with it for the purpose of the guide.) (To all the new players: Real thieves that are trying to get you will be red, not blue)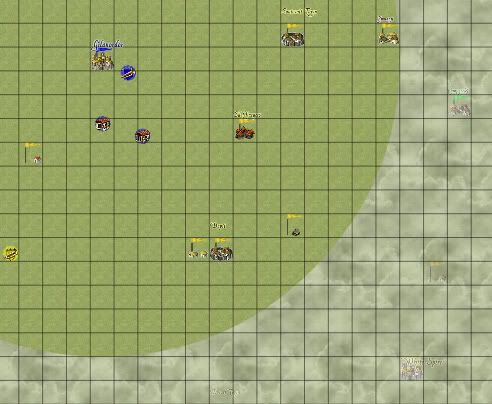 Then take another screen shot a little later.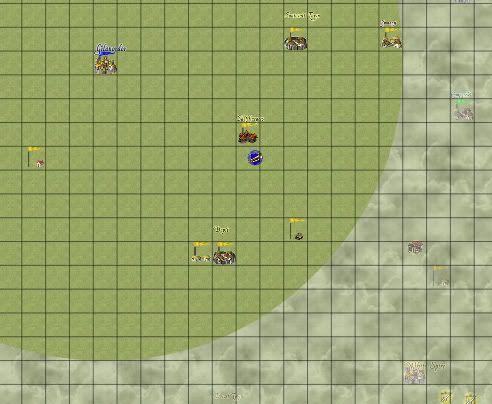 You should then paste the two shots over each other.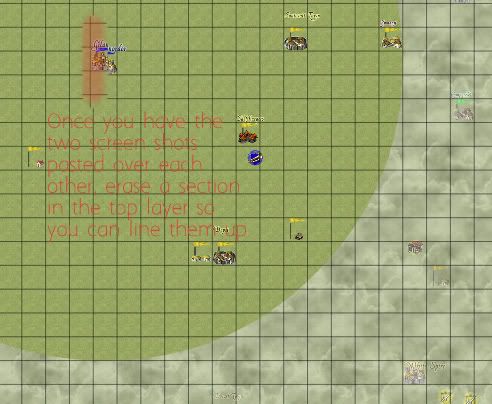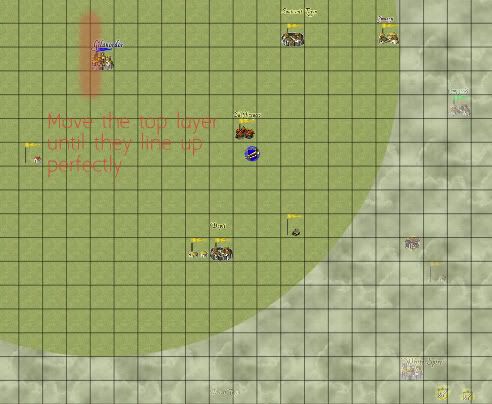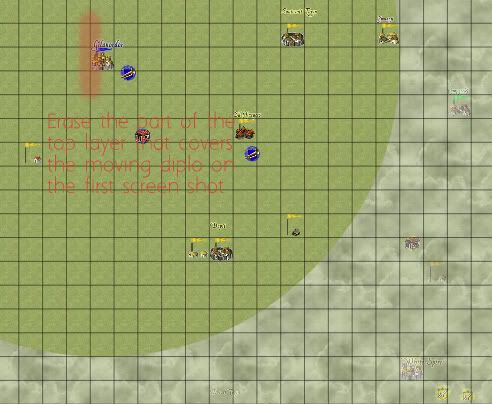 Then you are going to pick a spot on the diplo unit icon that is easily identifiable. I choose the top left corner of the shield. Then all you have to do is connect the dots.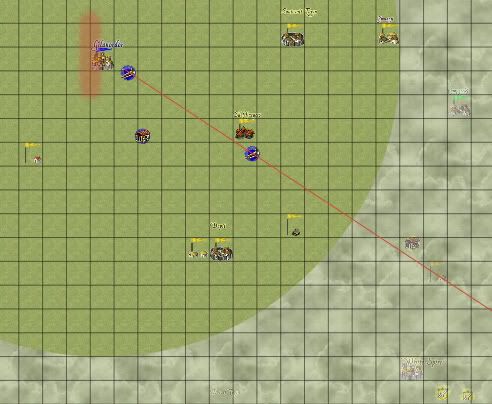 Ta-daa! It looks like the "thieves" came from that small human town that the red line crosses. Now, this still isn't 100% accurate. What if the real bad guy is just further down that line? That is where knowing the race and guessing the size of the player based on the number of thieves helps. Some.
Citizens Arrest! Citizens Arrest!
Once you have identified the perpetrator, you should let your alliance know before you do anything else. Mailing the player and telling them that you know they are stealing and they will get into trouble if they don't stop can also be good. But your alliance leadership might do that for you. Is attacking them back appropriate? I would say if a mail stops it, then that is good enough. If they are still stealing stuff after you have tried peaceful communications, then you are going to have to talk to your alliance.
A Few Last Notes
If you need something that was stolen so you can continue to grow, either your alliance or the awesome people in GC will probably help. But they probably won't send you loads of advanced res, because it could just be stolen again. And really, during this whole thing you should be talking with your alliance.
The Part That Isn't Here
I am probably forgetting something, so please let me know if there is anything that needs to be added. It would be very appreciated.
The End Credits
I want to give a big thanks to Ryelle, Fluffy, and Anjire. Without them, this guide wouldn't be worth reading.