How to Make a Bear Skin Rug (Or How to Fight Your First NPC)
Ok, so you finally figured out that you need a bear skin rug for your tavern. But did you notice that you can't buy them in the market? That means you will just have to make it yourself. First you need the bear.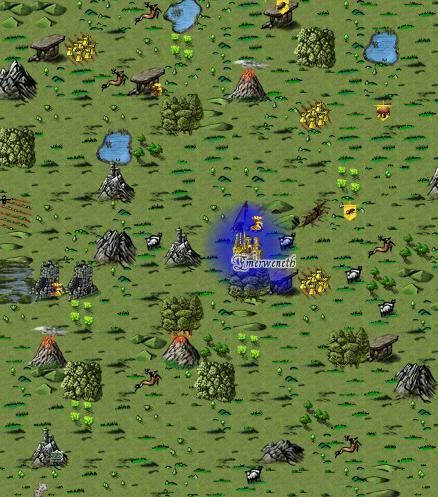 See that bear to the upper right with the yellow shield? (I really want to know if they carry that shield in their mouths, on their backs, or if it is a magic flying carpet-shield... (If it is a magic flying carpet-shield, I want one)) That bear really really wants to be a rug. So you are fine to attack it. And if you can't find a bear, you can use other critters for your floor covering. Like those insects to the south of the bears could make a fine carpet. Not as furry as a bear skin, but in your tavern everyone will be too drunk to notice.
Gather Intel
Now, you don't want to sacrifice your whole army just for a silly rug.
The first step to gather info about the critters is to click on them. Yep, that easy*. A little dialog will pop up and describe the NPC type, and the general quantity range.
* "Easy" always has an asterisk. In this case it is only easy if the npc are within the diplomatic view radius of your town. To find out your diplo radius, click on the rose to view your diplomatic overview. The spot that says "Total warning radius" is your diplo radius. If the critters are outside that distance, clicking on them will tell you "Size: Unkown" and you will need to send a scout to find out how many are there. (Stay tuned for more about sending scouts!)
You can get a rough estimate by looking at this chart:
Label
Minimum
Maximum
Few
1
3
Handful
4
8
Several
9
21
Pack
22
81
Many
82
128
Gathering
129
227
Horde
228
461
Throng
462
814
Host
815
2,499
Legion
2,500
7,207
So if you are just starting out, you can probably skip over hosts and legions (and probably some of the other ones too).
You can also figure how hard a NPC will be by looking at these links.
http://illyriad.honoredsoft.com/wiki/Critters_Chart
http://forum.illyriad.co.uk/npc-difficulty-guide_topic2378.html
Those are really good, so click them!
If you looked at those, you will see that things like saurians and elephants are really hard. And you know what is silly? The harder NPC types don't give you more experience for you commander. The only difference is the picture on the map/in the mails, and the number of troops you lose. So you are better off just attacking rats, wild dog, wolves, and bears. Spiders and salamanders are actually kinda hard, especially if they bring a teacup with them
.
Ok, so you have your potential target picked out (one that isn't too many and isn't a hard type). Now you need to send a scout. Maybe two or three actually. Most of the time one will do just fine, but will occasionally get eaten by the critter being scouted. But when you have two or three, they all run in different directions so the poor beast won't know which one to chase.
So go ahead and click the square, then send diplomats, then send those scouts.
Looking at the Ground
You want to note the what type of terrain you will be attacking on. If is it plains, cavalry is best. If buildings or woods, use swords. If it is a hill or mountain, I suggest using bows.
You can use other units than the ones I mention, but you will probably lose more soldiers.
We can see the bears we are attacking are test driving their magic flying carpet-shield on the plains (there are less obstacles on the plains), but I am going to attack with bows and a cavalry commander because I am weird.
Reading the Report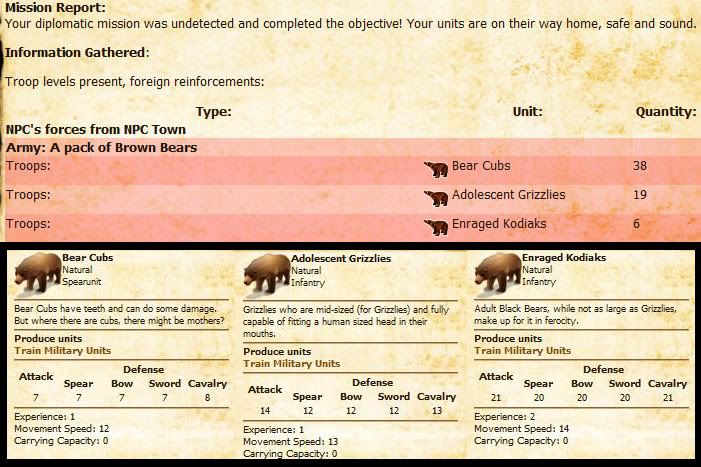 Ok, so we just got our report back. We will click on all of the critters listed and write down their defense against the unit we are attacking with (bows in this case).
Now we need to multiply the quantity by the strength of each type of critter and add everything together.
7 * 38 + 12 * 19 + 20 * 6 = 614
Voila'!
We should go to our military overview page (click on the axe at the top of the page) and see if we can beat them.

(Note for the smarty pants: These are not my real troop numbers. I have some armies wandering about to obscure reality
)
So it is the total attack number that we want to look at, 10,004. Generally, if your attack number is higher than the critters defense number (in this case 614), you win. But these numbers don't factor in terrain, so you should be a little higher than their defense number just in case. (But a 9,390 difference is maybe a little overboard) For more about optimizing your casualty ratio, see this amazing post made by Innoble.
Lets do this!
Alright, we sent a scout report, did the math, and figured we can win. So now it is time to actually hunt down a bear. Go to the map, click on bears (or whatever you are attacking), and click Send Army. On the military orders page, you want to make sure you have Attack selected in the drop down.
Wait
During this time, you can do a couple things: talk in GC, watch your troops creep across the map, talk in AC (if you have it), wish you upgraded Forced March on the last commander level, or you could talk in GC.
Success!
Yay! We won! All of the tavern regulars will love the new addition. I hope you win too!
The Last Notes
I hope everyone realized this guide was written with a bit of (attempted) humor. You actually don't get a bear skin rug when you attack a NPC. (I know, everyone is highly disappointed) You do get a little gold (Not enough to pay for the troops you lost), some experience for yourself and commander, and recently the critters have been dropping things like bones and entrails when they are slain. You can pick up their remains, but that topic would be more fitting in a different post.
I hope yall enjoyed this guide! If there is something you didn't like, found something I forgot, or you have additional questions don't hesitate to speak up.
Big thanks to Ryelle for helping me with this.


Edited by Vanerin - 31 Jul 2012 at 01:21