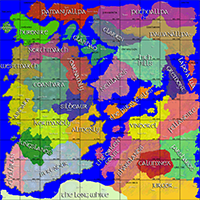 Brother Ambrosius, Chief Cartographer of the Order of Allembine, has returned with sketchbooks and first impressions from the recently discovered continent South of Elgea.
"I travelled over the seas with the South Oceans Company of Larn to meet these peoples called the 'Yuraquncha'. I expected an Island. But what I found was more: it is an entire continent, and very unlike that which we understand here in Elgea.
I have not had the time to travel this continent extensively, but I did travel Southwest from Suiqias into the region named Clarien, where I met with many different peoples and representatives from throughout the lands thereabout.
From these meetings - and aided by a map I purchased at Shearwall Market (apparently taken from the hands of the Pirate Kings, the trader insisted) - I have compiled an outline maps of the lands herein. The map lacks detail of the interior, but I feel confident that the outline and the essence is largely correct. I have placed this general map at the disposal of all the lords and ladies of Elgea.
I believe our understanding of the world has changed significantly, and my most excellent Order of Allembine will provide further details of the residents and their dealings shortly. A second expedition has already been despatched, with specific orders to provide further cartographic accuracy."