Trade Council Secret Talks Revealed

The Illyriad Herald can today reveal that secret talks have been taking place between senior figures of the Illyria Trade Council and the Circle of Five.
Pressed for a comment, the Illyria Trade Council itself would say only that "It has come to our attention that the processes used in the markets of Elgea for recording and registering trade have some minor limitations. This is simply an administrative issue, which we are working to address, in consultation with many valued stakeholders and commercial partners."
Geomancer Herrolf was even more terse, simply growling "Have you not got the hint, yet?" while cracks appeared in the flagstones beneath this reporter's feet.

However, a confidential source, over a pint of mead in a dark tavern in Bellingsy, was more talkative. "It all started," our informant said, "with them mages wanting us to transport Black Diamonds. In bulk.

Now, people who don't understand commerce, right, they'll say that's crazy. Black Diamonds, see, have a bad rep. It is true that everyone involved with them will go mad, suffer horrible accidents or be overcome by personal tragedy, yeah, yeah, whatever. But no good merchant will let overwhelming evil curses get in the way of making a profit. So, yeah, of course we're happy to deal with these things. But that's where this Administrative Issue comes from!"
"All the paperwork the Council uses, right, is based on the idea that there's only, what, 17 things that people want to trade? There's no box to tick on the shipping manifest for Evil Cursed Gemstones! So, all the top bosses, they started wondering what else people might want to buy and sell. There's some Dwarf talking about ancient metals, and xylophones or glockenspiels or whatever, so maybe rare metals? So they've got the bigwigs from the Circle of Five down here to find out what else they might want trading."
As a result of these talks, the Herald expects the Council to announce a broadening of trade, with more options accepted in the markets of Illyria. But our informant urges caution.
"First off, this is really complicated. Most peasant traders in the markets, right, they can't count higher than the fingers on their hands, especially the Orcs, so they already struggle with 17 items. So, the thing is, this sort of trade will probably only happen in really big markets. You know, like the sorts of markets you get at Faction Hubs? Really big!"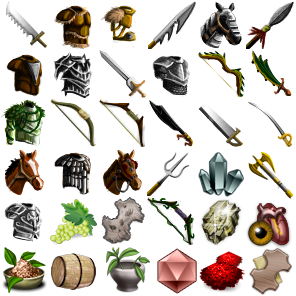 "Second, you won't be able to buy and sell just anything this way. I mean, I suggested, right, that there's good money in certain engravings of Elven maidens - tasteful stuff, mind you, like arty stuff. But no-one wants to listen, so there still won't be a box on the forms to tick for engravings...."