Increased Elemental Activity Still No Cause For Alarm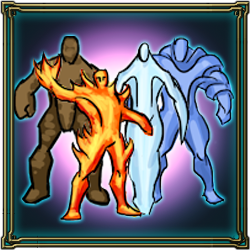 Representatives from the College of Silence have reported today that there have been sightings of living elements roaming the Broken Lands. According to accounts of some of the representatives, the College has reached out to the Circle of Five to gain more insight on what might have caused this heightened activity.
The Circle, similarly to the last instance in which they were questioned, denied responsibility and claimed "Again, the appearance of sentient elemental creatures is a natural phenomena linked to the ebb and flow of imperceivable magical currents.
Perhaps you should be asking the 'scholars' at the College of Silence who find it necessary to tamper with the dark magics of the Underworld."
Be it unknown magical forces, forbidden arcane experiments, or something far more sinister, the result is the same: the elements themselves have begun an invasion of their own across the lands and nobody has any idea how to stop the assault!