Kildarran
Seek Aid For The Forgotten Dead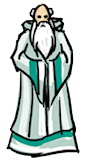 The Druids of the Kildarran today issued a plea for aid for the lost souls who, they say, haunt the wilds of the continent.
"In the forthcoming month, we prepare for our traditional festival of the dead," explained Chief Druid Belatorix Roshan. "We will welcome the dead back into our homes, hold feasts for them, and listen to them. We will learn from them and celebrate them and mourn them, that we may have wisdom and they may have peace. This is how one should revere the dead. But across the land, are souls that roam un-mourned, their bodies rotted without due ceremony, their memories forgotten. The Kildarran are but small, and cannot hope to help all the lost souls of Elgea, but we pray that some other, larger Faction, might offer assistance."
Reporters for the Herald immediately approached other major Factions for their responses.
Several pledged to consider the request.
A spokesman for the Illyria Trade Council promptly replied: "We very much like the idea of a festival of the dead. The morbidity gives a frisson of danger, and we can see a market for memorabilia. Kids will love it! There may even be gifting opportunities here. Shame these Kildarran guys didn't have the brains to market this themselves – but it's too late for them to ask for a percentage – we have no obligation to pay for the exploitation of an idea that they've already released into the public domain."
When this reporter asked how this would help the dead to find peace and the living to find wisdom, as the Druids had explained the festival, the Trade Council's spokesman retorted "in no way at all! Who cares about peace and wisdom! We're here for commerce! Now, I need to see about sourcing some knick-knacks with skulls and ghosts and stuff on them..."
With preparations for the Kildarran festival due to start in only a few days, it is to be hoped that other Factions will respond more constructively. In the past, the lords and ladies of Elgea have responded enthusiastically to calls for them to assist the continent, by way of a Tournament or a joint investigation, and it is to be hoped that in the next few days a Faction will step forward to offer assistance.


Edited by GM ThunderCat - 28 Sep 2012 at 22:38